[Good place for parents and children] MOKO park, a great place for electric discharge! Super long climbing wall to play
There is a new place where you can go to discharge with children!The 18,000-square-foot MOKO park! has already appeared.
MOKO park!amusementfacilityFun and exciting, its design concept is full of the characteristics of Mong Kok district, based on the famous Bird Street and Flower Market in Mong Kok; at the same time, it integrates the concept of animal and plant ecology and diversified environmental protection, entertaining and entertaining, including use in the "natural ecological zone" Simple pictures show the reproduction and growth process of parrots, recycling safety mats, mobile device charging facilities that promote renewable energy, and drinking fountains that utilize water resources, allowing children to play and learn.
MOKO Park! The biggest highlight is definitely the "dynamic climbing world", which is nearly 50 meters long and the longest in Hong Kong. The super long climbing wall is full of challenges.The park also has large amusement facilities, an exploration tunnel composed of hills and caves, and 6 sets of criss-cross slides, bringing a new and exciting experience for children!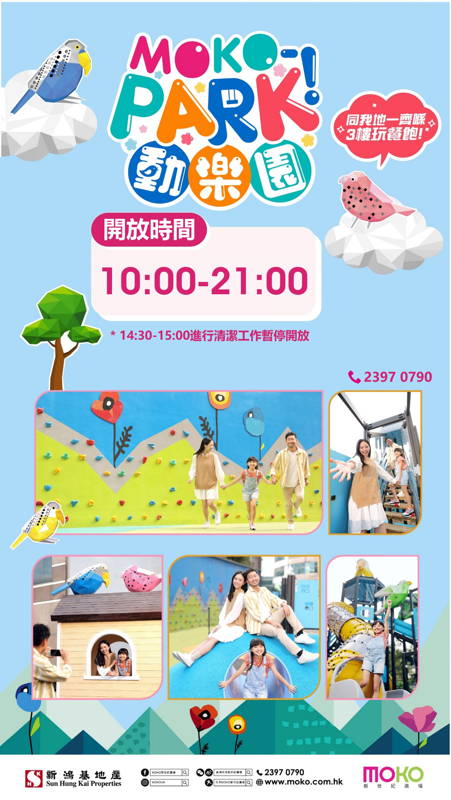 For details, please visit MOKO Park! Official website:
https://www.moko.com.hk/zh-hant/promotions/moko-park/

MOKO playground!
Location: MOKO New Century Plaza L3 Floor
Opening hours: 10:00am – 9:00pm
traffic:
MTR
Prince Edward Station B2

Mong Kok Station B3

Mong Kok East Station D
Buses
44 Tsing Yi Village
58X Leung King Village
59X Tuen Mun Ferry Pier
67X Siu Hong Court
93K Baolin
N293 Suntech
272X Tai Po Centre
293S Yin'ao Road, Hang Hau
Source of information and pictures:
New Town Education
https://bit.ly/3FA2IEX
New Century Plaza
https://bit.ly/32FdL0V
Sundaykiss
https://www.sundaykiss.com/%e8%a6%aa%e5%ad%90%e5%a5%bd%e5%8e%bb%e8%99%95/moko%e5%8b%95%e6%a8%82%e5%9c%92-%e6%94%80%e7%88%ac%e7%89%86-%e5%ae%a4%e5%a4%96%e9%81%8a%e6%a8%82%e5%a0%b4-sk13-540404/
The content of this article is provided by the GASCA team and is for reference only. It does not represent the position of GASCA. GASCA shall not be liable for any loss or damage caused by any person's use or misuse of any information or content, or reliance on it.
The latest GASCA activities:
Winners of the GASCA competition: