[Good place on weekends] Pixar Exhibition | The Science Behind Pixar
💛Exhibition location:

XNUMX Science Museum Road, Tsim Sha Tsui East, Kowloon, Hong Kong
Hong Kong Science Museum Underground Exhibition Hall
⏰Opening time:
展期:由2021年7月30日至2021年12月1日
Monday, Tuesday, Wednesday and Friday: 10 am to 7 pm
Saturdays, Sundays and public holidays: 10 am to 9 pm
Closed every Thursday (except public holidays) "Anti Fighter"
Released in 1995, it became the world's first fully computer-animated film.Since then, Pixar Animation Studio has continued to create many breakthrough films.
The "Science Secrets of Piss Animation" exhibition is organized by the Boston Museum of Science andPixar Pith Animation Studio co-planned and produced, allowing you to understand how these films are cleverly integrated from a new perspectiveScience, technology, engineering, fine arts and mathematics (STEAM)Concept, creating the vivid characters and lifelike scenes you enjoy on the screen.
The exhibition exhibited more than 50 groups of interesting and attractive physical models, interactive exhibits and video programs, respectively introducing the eight technical procedures of Pixar animation production.Also, don't miss a group photo with your favorite Pixar movie characters, including Buzz Lightyear, Dolly, etc.!
Construction model
Character design begins with artists, who use sketches and clay sculptures (referred to as sculptures, also known as "prototypes") to create ideal shapes for each character.The digital modeler will then construct a virtual XNUMXD model of the character.The final model is a virtual digital wireframe connected by dots and lines.
Build the skeleton structure
The digital skeleton structure is virtual bones, joints and muscles that enable the model to make movements.A good skeleton structure allows animators to create various actions easily and efficiently.The skeleton builder will disassemble these actions into independent units and create hundreds of control points, allowing the animator to create various poses.
Character action production
Pith's character animators let the characters perform in every scene and create lifelike stories.They will first identify the key frames and set an important posture in the action.Then they use computer programs to arrange how objects move between key gestures so that the movements can express the desired emotions.
Imaging production
The virtual scene has been set up-the character's coloring and actions have been completed, the lights and cameras are in place, and the simulators are also ready.However, until the imaging production process converts all this data and computer programming into the image we see, no one knows what it will look like.Pith will produce low-resolution images for clips that are still in the creative stage, and will produce high-resolution images for the final version of the film.

The special exhibition will be arranged in stages. Friends who want to see the exhibition, remember to make an appointment online for the visiting date and admission time immediately. : https://hk.science.museum/ms/pixar2021
=====
Source: Hong Kong Science Museum official website
Click here to download Pixar's fun exercises for free: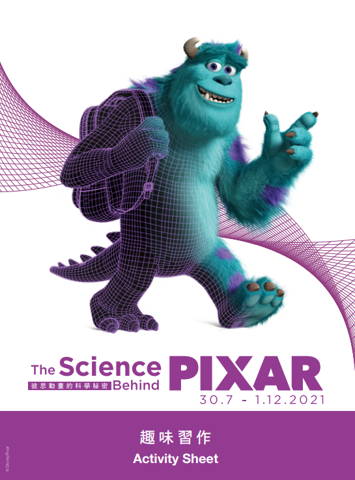 The content of this article is provided by the GASCA team and is for reference only. It does not represent the position of GASCA. GASCA shall not be liable for any loss or damage caused by any person's use or misuse of any information or content, or reliance on it.
The latest GASCA activities:
Winners of the GASCA contest: