The 44th International Putonghua Recitation Competition for Children and Youth (Winner Announcement)
Age Group A:
Champion: Chan, Kyrah Hor Ching

1st Runner Up: Ke Weihang

2nd Runner Up: Lau Sze Ching

Distinction Award: Chan Hei Yan, Chiu Wai Ting, Wong Ka Yu, Tan Wei Hong, Tsang Wing Yee, Leung Mei Yi
Age Group B:
Champion: Huang Wanqing

1st Runner Up: Lee Hoi ling

2nd Runner Up: Ye Haoran

Distinction Award: Lau Hoi Kiu, Cheung Ka Long, Wu Lok Yin, Pang Xinyi, Pang Sam Yee, Li Chun Kit
Age Group C:
Champion: Qi Junde
1st Runner Up: Yau Wing Shun

2nd Runner Up: Yeung Hei Yu

Distinction Award: Chow Ka Lok, Lau Ying Tung, Kwan Hiu Kei, Yung Ka Hin, Cathy Luk, Cheng Mei Ling
Age Group D:
Champion: Isabella Li

1st Runner Up: Huang Yongya

2nd Runner Up: Ho Ching Nam

Distinction Award: Chan Wai Ho, Mak Wai Chi, Yu Cheuk Yan, Yip Wing Yee, Leung Wai Shing, Wong Suk Mei

Most Popular Award-GOLD: Isabella Li

Age Group F:

Champion: Zhang Haozhe

1st Runner Up: TANG Ka Lam

2nd Runner Up: Tam Suk Kwan

Distinction Award: Pang Wai Hong, Lo Shing Chun, Mak Ka Po, Choi Ka Ho, Yu Wing Yee, Lee Wai Wing, Wong Chun Kiu

Age Group G:

Champion: Chen Lexuan

1st Runner Up: Wu Tsz Ching

2nd Runner Up: Lai Hiu Kei

Distinction Award: Chung Wing Yan, Kwok Ka Ching, Wong Hiu Nok, Lam Tsz Shing, Yim Wing Man
** Tutor Award: Participants must fill in the name, email and phone number of their tutor/institution/school or education center for confirmation when registering; the name of the tutor/institution/school or education center will not be added after the results are announced
The competition has been held successfully, Congratulations again to all winners!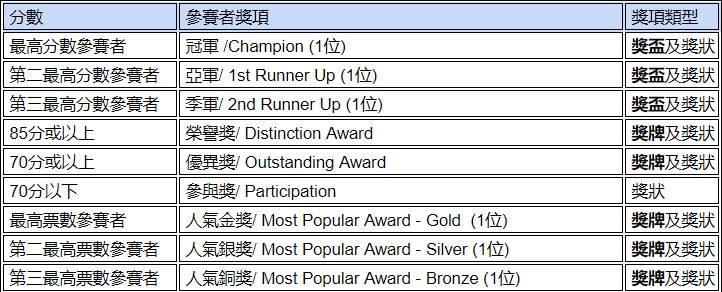 Congratulations to the winners again!
Awarded or not, you have demonstrated your own unique style and creativity, and these are achievements to be proud of and celebrated.
🏆Application for mailing Certificate/Medal & Trophy
Application for certificates/medals/trophies by mail
All winners must complete the application by May 11.Parents and tutors can log in to the GASCA account to download the e-certificate immediately, view the score sheet and apply for mailing of the certificate/medal/trophy.
🏆Application for International Instructor Award
Distinguished Mentor Award Application
The Association has established the Outstanding Mentor Award, hoping to recognize the outstanding performance of the mentors in the competition and win the awards under the outstanding teaching of their students.All winning contestants in the competition can apply for awards for their mentors.
Let us pay tribute to the winners of the "Outstanding Tutor Award", thank them for their contributions to the cause of education, and look forward to their continuous innovation and continued efforts for the growth and success of students.
Participate in other inspiring competitions: