Hong Kong Children and Youth Cantonese Speech Contest
​Successfully ended, congratulations again to all winners!A person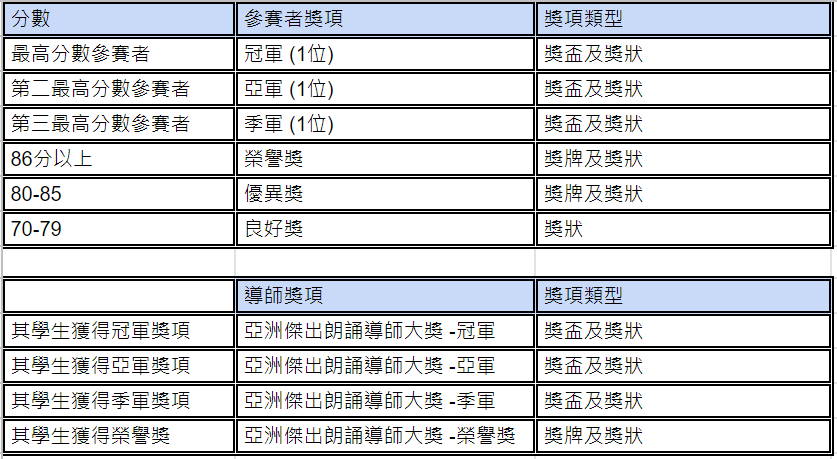 **If the same score occurs in the Champions League, the contestants will also receive awards
** Due to the large number of participants, the participants who have won the participation award (below 69 points) will not be listed on the list of winners
Asian Recital Contest Active Participation Guidance Award (Silver Award): Invite five or more students to participate in each group of instructors of the competition, get a certificate and $120 bonus
Active Participation Guidance Award (Gold Award): If you invite ten or more students, you will receive a certificate and a $250 bonus
Asia Outstanding Recitation Education Award: The school/education center invites ten or more students to participate in each group of competitions, and they will receive a certificate and a trophy
Please note - Tutor Award: Participants must fill in the name, email and phone number of their tutor/institution/school or education center for confirmation when registering; the name of the tutor/organization/school or education center will not be added after the results are announced. All tutors and education awards You need to submit the award application form yourself, Click here to apply for tutor/school or education center awards:
🏆 List of winners:
Please note - January 2021, 1Participants who register later belong to the 2nd Hong Kong Children and Youth Recitation Competition, and the list of winners will be announced on February 2021, 2.
The first contestants or winners are welcome to participate in the second contest, but they cannot compete with the same Langcai again. Please pay attention.

Congratulations to the winners again!
For those who failed to win the prize, please do not be discouraged. In fact, every contestant performed very well.
Remember to make persistent efforts and participate in different activities! ⭐️
Participate in other competitions: